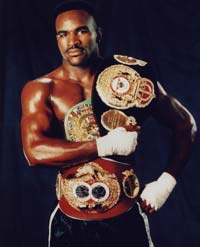 Born: October 19th, 1962 in Atmore, Alabama
Nationality: American
Famous For: Being a 2-time world heavyweight champion
Awards: Olympic bronze medal, 20 major world titles
Evander Holyfield was born in 1962 in Atmore, Alabama. Holyfield, the youngest of 8 children, grew up in Atlanta, Georgia. The boxer credits his mother with much of his accomplishments. She provided him with support and kept him away from trouble as a teen.
Evander Holyfield joined the Boys Club boxing tournament at the age of 12 and emerged victorious. A year later, he became eligible to take part in the 1984 Los Angeles Junior Olympics. At the Olympics, Holyfield experienced disappointment in the ring. The match officials disqualified him during a semi-final match for hitting his opponent after the bell. In spite of this setback, he won a bronze medal.
Boxing as a Career
After the 1984 Summer Olympics, Evander Holyfield turned professional. He first fought in the junior heavyweight division as well as cruiserweight class. He won the WBA Cruiserweight title in 1986 by defeating Dwight Qwai. In 1987, he won the IBF cruiserweight title. The following year he won the WBC cruiserweight title. As a younger man Holyfield was not naturally a heavyweight and so he had to go through rigorous training in order to compete as a heavyweight boxer. In 1989, he moved to the heavyweight division, and became undisputed heavyweight champ.
As a heavyweight fighter, he fought against boxing champions such as James Tillis, Michael Dokes, Pinklon Thomas, Adilson Rodriguez and Alex Stewart. In 1990, Holyfield became the world heavyweight champ, defeating James Douglas. Holyfield managed to knock Douglas out in only 7 minutes.
During his attempt to defend his title, he fought against legends such as Larry Holmes, Bert Cooper, and George Foreman. In 1992, he suffered a big loss to Riddick Bowe – losing his title. This was his first defeat in 29 fights. Holyfield lost his crown in 1994 to Michael Moorer after dislocating his shoulder. It was later revealed that he had a heart condition. At first, he planned to retire from the game he loved, but he passed the health test of the Boxing Commission.
Return
After briefly contemplating his retirement, Evander Holyfield was back and anxious to reclaim his heavyweight crown. He defeated Ray Mercer and Bobby Czyz. In 1996, Holyfield got to face a controversial boxer, Mike Tyson. Their first bout ended in the favor of Holyfield. He gave Tyson a rematch, and the match that took place became the most memorable in the history of boxing. During the match, Tyson bit Holyfield's ear twice. Mike Tyson was disqualified and his weird behavior in the ring became global news. A few months after the incident, Holyfield reclaimed his IBF title from boxer Michael Moore after defeating him in the eighth round.