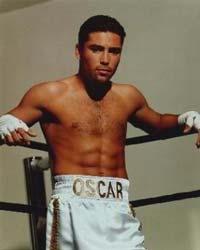 Born: February 4th, 1973 in Los Angeles, California
Nationality: American
Famous For: Winning 10 world titles in 6 weight divisions
Awards: Olympic gold medal
Oscar De La Hoya was one of the world's most popular boxers, generating millions of dollars from his pay-per-view matches before he retired in 2009. At age 17, he a won gold medal for his country at the 1992 Olympics in Barcelona. He went on to win ten world titles in various weight classes.
Early Life
Oscar De La Hoya was born in 1973 to Joel and Cecilia De La Hoya. Raised in hardscrabble neighborhoods of Los Angeles. He knew violence from the moment he started walking – although he proudly states that he never took part in street fights. His parents did whatever they could to protect him from the violence that regularly plagued their neighborhood.
Oscar was born into a boxing family. His father was a professional boxer in the 1960's. Oscar's grandfather was also an amateur boxer in the 1940's. His idol was Sugar Ray Leonard, an Olympic gold medalist who became popular after the 1976 Olympics. Leonard became the first fighter to win titles in 5 divisions.
Early Career
Oscar prepared for his very first match at age six. He won his first fight against a neighborhood child. By the time he was 11, he was frequently winning matches. Soon he started to train at the Resurrection Boy's Club Gym with Coach Al Stankie, who had trained Paul Gonzales to an Olympic Gold medal.
Oscar's career quickly started to soar. At 15 he took home the National Junior Boxing Championship title. One year later, he won the National Golden Gloves title. However, the joy of success was interfered with the news that his mother was ill with cancer. She died in 1990 at the age of 38, expressing the hope Oscar would win an Olympic gold medal one day.
Olympic Victory
As an amateur boxer, he continued his success. He won the Amateur Boxing National Championship in 1991. During this time he changed trainers. Oscar's next trainer was Robert Alcazar, a former boxer who worked with his father. With the 1992 Summer Olympics in Barcelona quickly approaching, Oscar turned the dream of his mother into a focus on training.
At the Olympic, his first opponent was Julio Gonzalez, a 27-year old Cuban boxer. Oscar won in a 7-2 decision, which was regarded the biggest boxing defeat in the history of the Olympics. He then defeated Marco Rudolph of Germany in the finals and become the only American boxer to ever win a medal in Barcelona. After the Olympics, Oscar decided to turn professional.
Professional Career
Oscar compiled a successful record during his first year as a pro. His first professional match was against Lamar Williams in 1992. He knocked him out in only one round. His next opponent was Cliff Hicks who suffered the same fate. The following year, he won nine more matches, mostly with knockouts. In 1994, he won WBO's Junior Lightweight Championship with the technical knockout of Jimmi Bredahl. A few months later, he captured the WBO lightweight title, knocking out Jorge Paez. After knocking out John Molina in 1995, he defeated Rafael Ruelas to win the International Boxing Federation (IBF) lightweight crown.
Retirement
De La Hoya announced that he would retire on April 14th, 2009. He accumulated more wealth than any other fighter in the sport with an estimated $700 million in pay-per-view money alone. He went on to start a clothing line and release a Grammy nominated album.