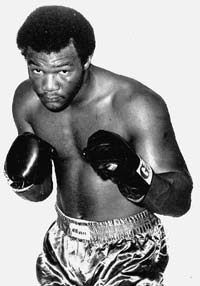 Born: January 19th, 1949 in Marshall, Texas
Nationality: American
Famous For: Being a 2-time world heavyweight champion
Awards: Olympic gold medal, 2-time Ring magazine Fighter of the Year
George Foreman was one of the most feared fighters in the boxing world between 1973 and 1974. He was undefeated in 40 fights, 37 of which were knockouts.
History
George came from poverty and was constantly on the wrong side of the law. He turned his life around when he started to box as an amateur and won a gold medal in the 1968 Olympic Games. George only lost 2 of his 24 amateur fights.
Dick Saddler trained George Foreman and guided him to the pro boxing circuit where Foreman trained with the likes of Charlie Snips and Charles "Sonny" Liston. George adopted and copied Liston's mannerisms and his style in the ring and used a deadly stare to intimidate opponents before the fight started. Many criticized Foreman for defeating opponents who were considered "second rate," but he scored many wins beating out several of the most popular fighters of the time including Gregorio Peralta, Boone Kirkman and George Chuvallo.
Title Fights
In 1973, George Foreman took down the then undefeated Joe Frazier in two intense rounds and took the world heavyweight title in 1973. During the fight, Foreman knocked Frazier down a total of six times.
George Foreman then faced Muhammad Ali to defend his heavyweight title on October 30th, 1974 in Zaire, Africa. He was knocked out in 8 rounds and lost his title to Ali during a highly televised event called the "Rumble in the Jungle."
Retirement and Return
Foreman went on to fight five opponents in one night during a 1975 exhibition. He was on the comeback trail after winning five knockouts in a row but was then taken out by Jimmy Young in 1977 in Puerto Rico. Following that stunning defeat, Foreman claims that he saw God in his dressing room after the fight. He said that God told him to retire from boxing and become an evangelist preacher.
During the ten years that Foreman was an evangelist preacher, his weight ballooned up to 300 pounds. At one point in 1987 he made a decision to return to boxing at the age of 39 in order to raise money for his church. Many experts mocked this decision saying that he was done and would never be able to make it in the professional ring. However, Foreman proved everyone wrong when he went on to accumulate 18 knockout victories.
Foreman was defeated by Evander Holyfield in a title bid, but a few years later he knocked out Michael Moorer – the then undefeated World Heavyweight Champion – to once again regain his title at the age of 45. He continued to defend the title and eventually lost it to Shannon Briggs. Foreman was finally inducted into the International Boxing Hall of Fame in 2003.
The George Foreman Grill
After his retirement, George Foreman introduced his George Foreman Grill through a TV infomercial. The grill is now widely available in retail stores and sells well because it is a product that helps to grill the fat out of food. Foreman has made more money through TV appearances and selling his products than he ever did in his boxing career.