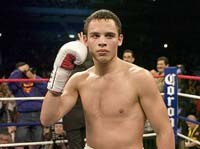 Born: February 16th, 1986 in Culiacán, Sinaloa, Mexico
Nationality: Mexican
Famous For: Taking the WBC middleweight belt in 2011
Julio Cesar Chavez Jr. is part of a family of Mexican professional boxers. His father is a four-time world boxing champion and is considered to be the best fighter to emerge from Mexico. Chavez Jr. goes by two nicknames in his native land: "La Leyenda Continua" (The Legend Continues) and "El Hijo De La Leyenda (The Son of the Legend). At 6'1" he has a reach of 74.5 inches and fights with an orthodox stance.
Early Life
Julio Cesar Chavez, Jr. was born February 16th, 1986 in Culiacan, Sinaloa, Mexico. At the time of his birth his father held the Super Featherweight WBC Championship. His dad made it a habit to take little Julio into the ring with him preceding his bouts.
Chavez Jr.'s parents divorced when he was a teenager under the suspicion that Julio Sr. was having an affair with actress Salma Hayek. Following that unwanted publicity, the junior Julio Cesar Chavez would remain out of the spotlight until deciding to become a pro boxer himself.
He participated in just two fights as an amateur with both of them being against Jorge Paez, Jr.
Professional Boxing Career
Chavez had his first professional boxing match at 17 years old. It was held in city of birth on September 26th, 2003. He fought in the Super Featherweight division against Jonathan Hernandez. The result was a six round decision in favor of Chavez.
He would go on from there to win 23 consecutive bouts before a draw against Carlos Amada Molina on December 16th, 2005. He quickly made amends for that blemish on his record by defeating Molina just over two months later at the Aladdin Hotel in Las Vegas by a majority decision.
He would then proceed to emerge victorious another 16 consecutive times bringing his record to 40-0-1 prior to a meeting with Troy Rowland on November 14th, 2009. While Chavez won the bout, a post fight examination revealed he had a diuretic in his system that was against the boxing governing statutes and the decision was changed from a victory to a no contest.
Six more wins followed the controversy with Rowland and as of mid 2012 his record stood at 46-0-1.
What would have been the pinnacle point of Chavez's career occurred on September 15th, 2012 at the Thomas and Mack Center in Las Vegas. A unification bout was held between him and Sergio Martinez for the Ring (magazine) and WBC Middleweight Championships.
Martinez was 49-2-2 himself when he entered the ring that evening. After the fight, his record stood at 50-2-2 as Chavez had experienced his first professional loss ever. Martinez dominated the fight for 11 of the 12 rounds. Chavez fought on gallantly and even knocked Martinez down midway through the last round. Martinez persevered however and received the unanimous decision.
To make matters worse, once again an illegal substance was found in Chavez's system following this fight. This time it was cannabis and this resulted in a 9 month suspension and $900,000 fine.
Julio Cesar Chavez Jr. did rebound from this latest bit of adversity by receiving a unanimous decision over Brian Vera in his last fight on September 28th, 2013.