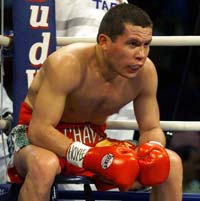 Born: July 12th, 1962 in Ciudad Obregón, Sonora, Mexico
Nationality: Mexican
Famous For: Being a world lightweight champion
Awards: 7 major world titles, International Boxing Hall of Fame
Julio César Chávez retired officially in January, 2006, after nearly three decades of a remarkable boxing career. Considered by many as the greatest Mexican boxers of all times, he has held an impressive six world championships in three divisions. He still dedicates considerable time to boxing programs and supporting his son, Julio César Chávez Jr., who has followed in his footsteps.
Early Life
Julio César Chávez González was born in Sonora, Mexico, on July 12th, 1962 into a poor family. His father worked in railroad construction and the family of eleven lived in a deserted railroad car. Out of a need to make ends meet, Chávez began amateur boxing at the age of 16 and made a professional debut a year later. At this point, his streak of successive wins was a clear indication of the path his career would take.
Career
In 1980, Chávez decided to go pro and immediately became known for his punching power that resulted in many knockouts. By 1984, he had 44 victorious fights under his belt and with a few televised fights, he was awarded a shot at the vacant WBC Featherweight title. On September 13th, 1984, he clinched the title after knocking out fellow countryman Mario Martinez to bag his first championship in a very anticipated and speculated match. Chávez would successfully defend his title in 1985 by knocking out opponent Roger Mayweather in the sixth round.
After 8 other defenses, Julio César Chávez decided to move up to the lightweight division and defeated the then WBA Lightweight defending champion Edwin Rosario in a match that ended in a TKO after eleven rounds.
With two belts, he ascended to Light Welterweight to take on Mayweather for the second time. The fight ended with Chávez's signature TKO after ten rounds. Chávez went on to win the IBF light welterweight championship after a grueling twelve rounds against defending champion Meldrick Taylor, with just 15 seconds left on the clock. In another controversial bout a year later, Chávez faced the loudmouthed Greg Haugen and the match ended early with a TKO that clearly damaged Haugen's ego.
His first loss came in 1994 after Frankie Randall stripped him of the Light Welterweight title in a technical decision. In a rematch order by WBC three months later, Chávez recaptured the title.
In the course of his career, Chávez struggled with alcohol and cocaine abuse with successful rehabilitation.
Retirement
In 1995, he started hinting at a possible retirement citing that his body was falling short of the boxing threshold. Chávez would lose again to Oscar De La Hoya in 1998 in an eighth round knock-out. Although he won several fights afterwards, Chávez suffered more losses and sought to avenge each loss which delayed his expected retirement.
When he finally retired from professional boxing, Julio César Chávez had a record 107 wins with 86 knockouts, six world titles in three different weight categories, 6 losses and 2 draws. He holds the record for the longest undefeated streak in the history of boxing at 13 years. He is now a businessman and a TV sports analyst.