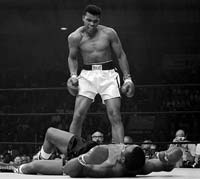 Born: January 17th, 1942 in Louisville, Kentucky
Nationality: American
Famous For: His flamboyance and dominance in the ring
Awards: Olympic gold medal, 3-time world heavyweight champion, International Boxing Hall of Fame
Muhammad Ali is considered by many boxing experts to be the greatest heavyweight champion in boxing history. His early career was marked by controversies. Ali's contests in the ring sometimes take a back seat to his battle involving issues such as racial justice and religious freedom. If nothing else he is considered a man of principal, even by his detractors. He is credited with single handily revitalizing a dying sport in the mid 1960's with his outlandish personality and world recognition. Muhammad Ali was most often referred to as simply "The Greatest." He shares recognition by Sports Illustrated as "Sportsman of the Century" along with the British Broadcast Company's "Sports Personality of the Century" award.
Early Life and Career
Born as Cassius Marcellus Clay Jr., on January 17th, 1942, Ali grew up in Louisville, Kentucky. He was the oldest of two brothers. Ali was raised by supportive parents; his father was a billboard and sign painter and a mother was a homemaker. By all accounts the Clay family unit was a typical middle class African American family. Young Cassius was brought up as part of the Baptist faith even though his father was a Methodist.
Accounts of his interest in boxing have been linked to an early life incident when his bike was stolen. Cassius informed the investigating police officer of his intention of "whupping" the thief if he caught him. The policeman happened to also coach youth boxing and suggested if he wanted to take up fighting he should do it in a ring.
Cassius Clay went on to win 6 Kentucky Gold Gloves and 2 national Gold Glove titles along with an Amateur Athletic Union U.S. crown and a gold medal in the 1960 Summer Olympics held in Rome. This all occurred prior to his 19th birthday.
Professional Career
Cassius Clay's first professional fight was a victory over Tunney Hunnsaker. Over the next 3 years his record stood at 19-0. Fifteen of the wins were the result of a knockout. His trainer was the famed Angelo Dundee whom Clay would retain as his tutor from 1960 to 1981.
Clay captured the heavyweight crown in on February 25th, 1964 in Miami with a controversial technical knockout of Sonny Liston. Liston was an unscrupulous character with ties to the mob and some question his failure to answer the bell for round 7 that night to be part of a "fix." Following the bout, at the age of 22, Clay anointed himself "The Greatest."
Other notable opponents of Ali were George Forman and "Smokin" Joe Frazier who he met in the epic "Thrilla in Manila" in 1975. His boxing career ended with 2 losses to Larry Holmes and Trevor Berbick in October of 1980 and December of 1981, respectively.
Muhammad Ali's pro boxing record was 56 wins (37 by knockout), 5 losses and no draws. He was never knocked out and suffered just one TKO at the hands of Larry Holmes in the aforementioned match of 1980.
Controversies
Cassius Clay's name change was a result of his joining the Nation of Islam and becoming a Muslim in 1964. Most journalists and future opponents ridiculed his switching faiths and refused to acknowledge him as Muhammad Ali. One notable exception was Howard Cosell who Ali would forge a great personal relationship through the years.
An even greater disagreement arose with Ali's refusal to be drafted into the military in 1966 during the Vietnam War. Using his faith as the reason, he declared himself a conscientious objector to the killing of fellow human beings. Ali was arrested and had his boxing titles stripped by boxing governing bodies. He was forced into a 3 year exile from the sport.
Later Life
In 1984, Muhammad Ali was diagnosed with Parkinson's disease. He has continued to be an ambassador to the world for boxing and his strong social and religious beliefs. At the age of 71, he currently resides in Scottsdale, Arizona with his fourth wife Lonnie. He has 2 daughters, one of whom, Laila, was also a professional boxer.