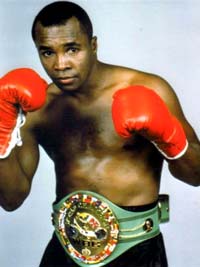 Born: May 17th, 1956 in Rocky Mount, North Carolina
Nationality: American
Famous For: Winning the world title in five weight divisions
Awards: World Boxing Hall of Fame, International Boxing Hall of Fame, Ring magazine Fight of the Decade for the 1980's
Sugar Ray Leonard is a former professional boxer from the United States. After his retirement from the ring, he became a motivational speaker, as well as appearing in a small number of film and TV roles. Leonard was among the most successful boxers of all time, becoming world champion six times, in five different weight categories, and winning over $100 million in the process. In 1990, he received the prestigious Mark Grossinger Etess Award from boxing journalists, being acknowledged as the finest boxer of the 1980's.
Early Life and Career
Leonard was born in the North Carolina town of Rocky Mount. He is said to have been a conscientious and hard-working but shy student at school. His prodigious boxing abilities did not truly begin to show themselves until he was in his teens, when he attended a program set up by his older brother, who was himself a keen boxer. Leonard lied about his age in 1972 in order to be accepted into the Eastern Olympic Trials; during his progress to the semi-finals his performance was said by a trainer to have been "as sweet as sugar," thereby giving Leonard the nickname he would use throughout his sporting career.
Leonard would compete in the amateur ranks for several more years, continuing until the Montreal Olympics in 1976, where he won the gold medal in the light welterweight division. Retiring from amateur boxing with an eye-catching 145-5 record, Leonard suggested that he was now done with the sport and wanted to continue his academic education. Instead, financial problems forced him to change his plans. Adverse publicity and substantial debts associated with a paternity suit meant that he was unable to gain many commercial endorsements. Leonard decided that the best way forward was for him to become a professional boxer.
Professional Career
Leonard made his professional boxing debut in 1977, at which point he was still only 20. He won the fight, starting off what was to be one of the most successful boxing careers of all time. During two decades at the top level of the sport, he won titles in every division from welterweight to light heavyweight, a record that remains unmatched. At his peak, he fought and beat boxers of the stature of Roberto Duran, Marvelous Marvin Hagler, and Thomas Hearns. His bout in Las Vegas in 1981, when he defeated the previously unbeaten Hearns, was widely considered the most exciting of that year.
Leonard announced that he was to retire from boxing in 1991, but he made a comeback in 1997, in order to fight Hector Camacho for the IBC world title. The fight proved to be something of a mismatch, with Leonard being knocked out – the only time that had happened in his entire professional career. After receiving this beating, Leonard retired permanently from the ring, moving into the media and becoming a well-known and popular broadcaster with TV companies including NBC, ABC, and HBO. His motivational speeches also became highly sought after, and he was frequently booked for events by large corporations. Leonard became active in charitable work, in particular with raising awareness of juvenile diabetes.