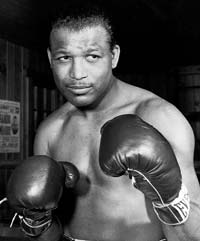 Born: May 3rd, 1921 in Detriot, Michigan
Died: April 12th, 1989 (at age 78) in Los Angeles, California
Nationality: American
Famous For: Being undefeated for 8 years
Awards: Ring magazine Best Pound for Pound Boxer in History, World Boxing Hall of Fame, International Boxing Hall of Fame
Sugar Ray Robinson was a professional boxer from the United States who fought mostly in the welterweight and middleweight divisions. He is widely considered to have been one of the greatest pound-for-pound boxers of all time. He was also instrumental in the development of the celebrity culture of modern boxing, being the first man to regularly be accompanied by a large entourage. Robinson, whose birth name was Walker Smith Jr., was posthumously granted entry to the International Boxing Hall of Fame a year after his death.
Childhood and Early Career
The details of Robinson's earliest years are uncertain: even his place of birth is not definitely known. Robinson himself claimed in his autobiography that he had been born in Detroit, but his birth certificate lists the Georgia town of Ailey as the location. His parents divorced when he was young, and he lived with his mother and sisters. They led a nomadic life in Michigan, Georgia and finally New York. Robinson made his first earnings through tap dancing, but at school in Harlem he quickly acquired a reputation for his fighting abilities. He soon became a highly successful amateur in the featherweight category, winning the amateur championship in 1939.
In 1940, Robinson began to box professionally, winning his first fight by a second round knockout. He was undefeated in all of his first 40 bouts, finally losing to Jake LaMotta in 1943. This would be his only loss for a further eight years. Robinson faced LaMotta on five occasions, and the two boxers' duels were generally hard-fought and brutal affairs. After winning one of these fights in September 1945, Robinson had reached the peak of his form. The following year he fought Tommy Bell for the welterweight championship of the world. He won, although it took him 15 rounds to do so, and was then unbeaten as a welterweight until he ceased to fight in that division six years later.
Height of His Fame
In 1951, Robinson moved to middleweight class in order to challenge for the world crown at that level. LaMotta was again his opponent, and again Robinson won. His 13th round knockout brought an end to the two men's legendary match-ups. A little later that year, Robinson was surprisingly beaten by Randy Turpin, although he won a rematch shortly afterward. Robinson attempted to move up to light-heavyweight in 1952, but lost to Joey Maxim when – although leading on points – he was unable to cope with a ferocious New York heat wave and passed out in the 13th round. Shortly afterward, he announced his retirement, having won 98 of his 102 professional fights.
Robinson spent the next two years touring with his own stage show, but he returned to boxing in 1954 for financial reasons. He was no longer quite the fighter he once had been, winning only 77 of his 99 bouts. Nevertheless, he continued to fight until 1965. By then well into his forties, he decided to retire for good. He then returned to show business, finding roles on TV and in movies as well as helping disadvantaged children. However, a combination of diabetes and Alzheimer's disease marred his final years. He died in Los Angeles on April 12th, 1988.