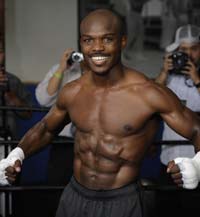 Born: August 29th, 1983 in Cathedral City, California
Nationality: American
Famous For: Being undefeated at 31-0 as of October, 2013
Timothy Bradley is a famous undefeated American professional boxer. He is the current WBO welterweight champion and also the former WBO and two-time WBC junior welterweight champion. He is currently being trained by former title contender Joel Diaz.
Early Life
Bradley was born on August, 29th, 1983 in California. He grew up in the Coachella Valley. He started training to become a professional boxer in his late teens and by the time he turned 21 he fought Francisco Martinez in his first professional fight. He won this fight in the second round with a knockout. Before his career as a professional boxer, Bradley worked as waiter and a dishwasher. He is currently married to his high school sweetheart Monica Manzo. In 2010, he officially became the adoptive father of Monica's two kids.
Boxing Career
Timothy Bradley finally managed to get a chance for a full world title when Jose Castillo could not make weight in the title eliminator for the WBC super lightweight belt. He won this title after beating Junior Witter in England. Bradley fought against the World Boxing Organization champ Kendall Holt. He managed to win in a unanimous decision and took the WBO title from Holt. He went on to win another WBO title and also a WBC title.
In his HBO Debut, Bradley was to face Luis Abregu. However, his promoter told ESPN that Bradley had already made a deal with Golden Boy Promotions to fight Marcos Maidana – the Interim title holder. During this fight, Bradley proved to be too skilled and fast. He won the match by unanimous decision.
On January 29th, 2011, Bradley defended his WBO junior welterweight. Later, Timothy Bradley lost his title after refusing to fight Amir Khan who wsa the World Association light welterweight champion. Most people speculated that Bradley was not satisfied with $1.3 million he was offered to fight a boxer like Khan.
After defeating Joel Casamayor in a 140 pound division fight in 2011, Timothy started to publicly talk about his desire to face Manny Pacquiao – a famous Filipino boxer. Pacquiao held multiple titles in 8 different weight divisions.
On June 9th, 2012, Bradley won his 12 – round match against Pacquiao. This was after a decision by three judges; two of the judges produced scores of 115 -113 with Bradley as the winner. This fight was a great upset for many boxing fans as Pacquiao had won seven rounds to Bradley's 5. The decision spurred wide speculation in the media; many critics and fans believed that Pacquiao should have been declared the winner. Pacquiao had been ahead in power punches landed, punches landed, total percentage of punches landed and percentage power punches landed – yet he did not get the win.
Most recently, on March 16th, 2013, Timothy defeated Ruslan Provodnikov. Though he was knocked down in the 12th round, Bradley managed to retain his WBO welterweight title.