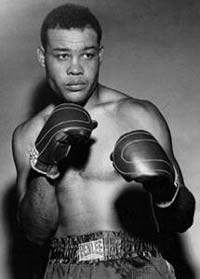 Born: May 13th, 1914 in La Fayette, Alabama
Died: April 12th, 1981 (at age 66) in Paradise, Nevada
Nationality: American
Famous For: Holding the world heavyweight championship title for nearly 12 years
Awards: Congressional gold medal, International Boxing Hall of Fame
Joe Louis was an American professional boxer who is world renowned for holding and successfully defending the World Heavyweight title for twelve consecutive years. He retired in 1949 as the indomitable heavyweight champion after seventeen years of an outstanding career. After being forced out of retirement by financial issues, Louis failed to regain the title and bowed out of boxing permanently.
Early Life
In 1914, Joseph Louis Barrow was born to Munroe and Lillie Burrow. He was the seventh of eight children and his childhood was dominated by poverty and racial discrimination. When his father, who was a sharecropper, was confined to an asylum, he and his brothers took up odd jobs to help out their mother. When the family moved to Detroit, Joe Louis started getting acquainted with boxing and the jobs he did to earn money helped him build a strong physique.
Amateur Career
At 17 years of age, Louis fought his first fight against Olympian Johnny Miller and lost. This loss made him aware of the value of training which he took up full time. In the next few years, he went on to win all his fights. In 1936, he clinched the Golden Gloves lightweight title. By the time he decided to turn professional, Louis had 54 fights under his belt – 43 knockouts and only 4 losses.
Professional Career
In the first year of pro-boxing, Joe Louis won twelve fights. His standings were slowly rising and his fame was growing. One of his greatest moments came when he defeated former heavyweight titleholder Primo Carnera after 6 rounds. With a streak of consistent winnings, a 1936 loss to Max Schmeling dealt a major blow to Louis who until then had seemed invincible.
After winning several other matches and successfully defending his title, Louis sought to be paired up against Schmeling. When the time finally came in 1938 it was one of the biggest sporting events of the 20th century. Yankee stadium had a massive crowd of 70,000 with millions more listening in via radio. In an impressive two minute and four seconds battle, Louis launched a powerful assault and knocked out Schmeling.
From 1937, Joe Louis defended the world heavyweight championship; a reign that would not end until twelve years later. He fought some of the world's greatest boxers, including: Billy Conn, Lou Nova, Johnny Paycheck, and Tony Galento, among others. In early 1942, Louis took on a charity bout against Buddy Baer and subsequently volunteered as a private in the US army. It was not until 1946 that he went back to the ring to defend his title. Twice his prowess was tested by Jersey Joe Walcott who came close to defeating him.
Retirement
It was evident that Joe Louis was aging quickly and he announced his retirement from professional boxing in 1949. A year later, Louis was forced back into the ring by government debts and he sought a fight against the then heavyweight champion Ezzard Charles. By the end of the match, his two years away from competitive boxing showed considerably and he lost. He never won another match. In retirement he became a wrestler, referee and golfer.
Louis died of cardiac arrest on April 12th, 1981 and was survived by six children from two marriages; he had married four times.