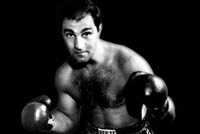 Born: Septmber 1st, 1923 in Brockton, Massachusettes
Died: August 31st, 1969 (at age 45) in Newton, Iowa
Nationality: American
Famous For: Going unedfeated his entire professional career
Awards: International Boxing Hall of Fame, world heavyweight champion
Rocky Marciano was a famous American professional boxer. He was the World Heavyweight champion from 1952 to 1956. He is also the only person to hold the heavyweight title and even go untied and undefeated in his entire career. He defended his title 6 times against Joe Walcott, Ezzard Charles (twice), Archie Moore, Ronald LaStarza and Don Cockell.
Early Life
Rocky was born on September 1st, 1923 in Massachusetts. Both of his parents were immigrants from Italy. Rocky had three sisters and two brothers. When he was just 8 months old, he suffered from pneumonia; this illness almost killed him. As a young man, he frequently played baseball with his brother and a friend. He also worked out on some homemade weightlifting equipment and used a stuffed mailbag that was hung from a tree as a heavy bag. Rocky attended Brockton High School; here he played baseball and football. After tenth grade, Rocky dropped out of school. He started working as a chute man on delivery trucks and later as a ditch digger and a shoe maker. In 1943, he was drafted into the army for two years. Here he helped ferry supplies across the English Channel to Normandy. After the war, he completed his service in 1946 at Fort Lewis in Washington.
While still in Fort Lewis, Rocky represented his unit in several amateur fights; he won the 1946 Amateur Armed Forces boxing tournament. In 1947, he became a professional and fought his very first fight as a pro. He knocked out his competitor in three rounds. Later on that year, Rocky returned to Brockton and started training with his longtime friend Allie Colombo. Charley Goldman later became his trainer.
Professional Career
Rocky Marciano won a fight against Harry Bilizarian. After this, he won his next 16 fights by knockout; all before the 5th round – nine of them before the end of the first round. On September 23rd, 1952, Rocky fought against Joe Walcott in the World Heavyweight Championship. He was knocked down in the very first round. He came back to win in the 13th round, knocking out Walcott with an accurate right punch. This punch was later dubbed his "Susie Q."
Rocky defended his title 6 times; he won 5 by knockout. In his last title fight, his opponent was Archie Moore. The fight took place on September 21st, 1955; Rocky knocked out Moore in the 9th round. On April 27th, 1956, Marciano announced his retirement. Throughout his career, he managed to win an unrivaled 49 straight fights where 43 of them were by knockout.
Personal Life
Rocky married his wife Barbra on December 31st, 1959. The couple had one daughter and one adopted son. After boxing, in 1961, Rocky hosted a weekly boxing show on TV. Rocky also worked as a referee and even a boxing commentator for several years.
On August 31st, on the eve of his birthday, Rocky was a travelling by a small private plane. That night, the weather was extremely bad and this caused the plane to crash. He died at the age of 45. His wife, who died 5 years later, is entombed next to him.