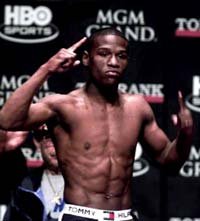 Born: February 24th, 1977 in Grand Rapids, Michigan
Nationality: American
Famous For: Being undefeated at 45-0 as of October, 2013
Awards: 10 major world titles
Floyd Mayweather Jr. was born in Michigan in 1977. He is widely considered the best boxer in the world today. He has won 7 world championships in 5 weight classes, a distinctive feat that no fighter has ever achieved. He has triumphed in unofficial Lineal Championship in three different weight categories. His father, Floyd Mayweather Sr., was a renowned boxer. His uncle is also the former IBO champion.
Early life
Mayweather was brought up in a family of boxers. His father introduced him to the gym after he began walking. At only 7 years, Floyd was fitted his very first pair of gloves. Floyd became a staple in the gymnasium, which was situated a few yards from his family's house.
Floyd's family life was complex. His father was jailed in 1993 for cocaine trafficking. His mother also dealt with drug abuse issues. With his dad in prison, Floyd shuffled homes between his mother's and his grandmother's. Living with his mother was not easy as they were so poor that there were seven people in a single bedroom apartment.
Boxing Success
It was boxing that proved to be Floyd's ultimate savior. His grandmother was the first person to notice his potential. She advised him to focus on improving his fighting skills instead of searching for a job. His remarkable speed and ring sense were apparent early on in life. Floyd, with his quick style, won the National Golden Gloves as well as a bronze medal in the 1996 Olympic Games. Soon after the Olympics, Floyd turned professional. As a pro, Floyd continued to beat each contender that he was matched against.
Within two years and seventeen conservative wins, he was matched against Genaro Hernandez – a boxer who never lost at the junior lightweight level. But the champion was no match for Mayweather – retiring after eight rounds. Floyd was a new champion. At the junior lightweight, he continued to win match after match. The best contenders, such as Carlos Rios, Justin Juuko, Angel Manfredy, Goyo Vargas, and Carlos Gerena, were no match for Mayweather.
He also defeated Diego Corrales, a fighter who was undefeated at 33-0. He decimated Corrales knocking him down 5 times. After this victory, the fans started to see Mayweather as the rising superstar. His performance was brilliant. His boxing career accelerated even more in 2000, when he embarked on a 7 year stretch which had fans speaking about him as among the sport's all time best. He went ahead to win WBC lightweight and home Ring magazine titles a year later. In 2005, he won the WBC super-lightweight title.
In the 2007, he was put against Oscar De La Hoya. Floyd won the match by split decision. Since then, he has retired from boxing twice and come back twice. Mayweather has cleaned up nicely, defeating the likes of Juan Manuel Marquez, Ricky Hatton, Shane Mosley, Miguel Cotto and Victor Ortiz. He has never lost a fight. His success in boxing has made him the highest-paid athlete in America, with an income of over $60 million per year.