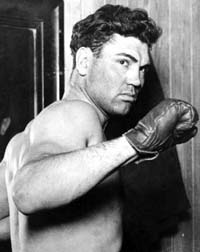 Born: June 24th, 1895 in Manassa, Colorado
Died: May 31st, 1983 (at age 87) in New York City, New York
Nationality: American
Famous For: Being the world heavyweight champion from 1919 to 1926
Awards: Boxing Hall of Fame, Named Boxer of the Half Century by the Associated Press
William Harrison Jack Dempsey was an American Boxer and cultural icon of the 1920's. He held the world heavyweight title from 1919 to 1926. His aggressive style and punching power made him one of the most popular boxers in the history. Because of his savage methods, he was regarded by many as the apotheosis of the professional fighter.
Birth and Early Years
Born to Mary Celia and Hiram Dempsey in June, 1895 in Manassa, Colorado, Dempsey was one of 11 children. During his early teens, he used to work as a cowboy and farm hand to earn money. He left home at the age of 16 and traveled west on freight trains. It was during this age that Dempsey discovered his talent for fighting. With the help of his older brother, he commenced training as a professional boxer. Dempsey fought his early fights under the pseudonym "Kid Blackie." He first appeared as Jack Dempsey in 1914. In 1918 and 1919, he compiled a remarkable number of wins by knocking down opponents in the first round. In 1919, he knocked down Jess Willard and became world heavyweight champion.
He defended his world championship title five times before finally losing to Gene Tunney in 1926. He was the first boxer to have the first million dollar gate. He also served as a Lieutenant Commander in the Coast Guard during World War II. After retiring from boxing, Dempsey became a successful restaurant owner in New York. Jack Dempsey died in 1983.
Dempsey published several books on the principles of boxing. Some of his famous books include "Dempsey, Round by Round" and "Dempsey – The Autobiography of Jack Dempsey."
Important Matches
Jack Dempsey's most famous title fights include his first fight against then world heavyweight champion Jess Willard. Dempsey defeated Willard by knocking him down seven times in first round. His next big match was against Georges Carpentier, a Frenchman. The fight took place in July of 1921 at Boyle's Thirty Acres and was the first major boxing event that generated a million dollar gate. Dempsey's fight against Luis Angel Firpo, and Argentinean heavyweight champion, was another popular title fight. This fight was fought on September 14th, 1923 in New York City. Dempsey defeated Firpo and won the title again. This was his last successful title win.
The Long Count Fight
His fight against Gene Tunney was quite controversial and became famously known as "The Long Count Fight." In this battle, Dempsey lost his chance for a great knockout by just standing near the fallen Gene Tunney instead of reaching the neutral corner of the ring. This new rule was forgotten by Dempsey, and this gave Tunney enough time to get up and later take Dempsey down. In the 1930's, Jack Dempsey appeared in several fights and exhibitions, but none of them were at a championship level.
Boxing Style
Dempsey used to fight in a bob and weave style which made him difficult to hit – particularly for a large opponent. He enjoyed taking on larger opponents who seemed to be baffled by his bob and weave methods. He had surprisingly good speed and power for his height and weight.