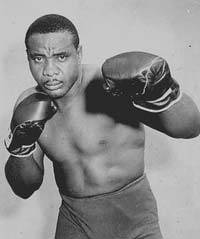 Born: Sand Slough, Arkansas (date unknown)
Died: December 30th, 1970 in Las Vegas, Nevada
Nationality: American
Famous For: Being a world heavyweight champion
Awards: International Boxing Hall of Fame, World Boxing Hall of Fame
To many people Sonny Liston will forever be remembered for many of his foibles in and out of the ring. His most well known boxing matches are the ones he lost to Mohammad Ali. That was unfortunate because Liston truly was an outstanding heavyweight fighter.
The Early Life of Sonny Liston
Charles "Sonny" Liston was born on May 8th, 1932 in Sand Slough, Arkansas. Or so it is believed. Liston did not know his true birth date and simply settled on this one later in life. He may very well have been older than he claimed to be.
Liston was born a poor sharecropper and was one of 13 children. His father was very abusive to him and Liston bore major scars on his body from the numerous beatings he had suffered.
Liston moved to St. Louis and do poorly in school because of illiteracy. He would fall in with the wrong crowd and become a violent criminal. He was eventually arrested for robbery and sentenced to five years in jail in 1950. While Liston was in prison, he met a priest named Father Alois Stevens. Stevens suggested that Liston take up boxing, which the young man did. Liston excelled at the sport and he found a new passion in life. In 1952, he was paroled from prison. When he was released, he continued on training in boxing.
A Brief Amateur Career
Liston's amateur boxing career was both brief and notable. He won various tournaments including the Golden Gloves. He did not have a great many matches, but he was good enough to become a professional fighter. In 1953, he would enter the pro ranks.
On September 2nd, 1953, in St. Louis, Liston impressively won his first professional bout knocking out a fighter named Don Smith. Liston quickly established himself as a feared fighter with a tremendous left hook. His rugged tough guy persona was real and it helped create a mystique about him.
Unfortunately, Liston's career was sidelined after getting into a fight with a police officer. As a result Liston ended up spending a short stint in prison. Upon his release, he would return to boxing.
The World Title
September 25th, 1962 saw Liston defeat Floyd Patterson to become heavyweight champion of the world. This was not a welcomed result in the sports world. Liston was connected to the mob and was known for his run in with the law. Liston was able to remained focused enough to defeat Patterson in a rematch.
On February 25th, 1964, Sonny Liston lost the title to Mohammad Ali in the match that made Ali a star. In their rematch, Liston was knocked down by a mysterious "phantom punch." Many claimed Liston took a dive – although this has never been proven.
Liston continued to fight until 1970. He had a few notable wins, but his career never got back on track.
Final Days
After his boxing career ended, Liston's life reflected a sad decline. On January 5th, 1971, Liston died in his home in Las Vegas under mysterious circumstances. The death was ruled as being the result of a heroin overdose; however Liston's wife insisted that he was afraid of needles.