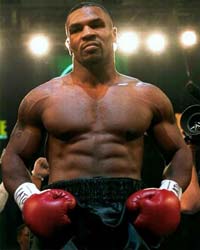 Born: June 30th, 1966 in Brooklyn, New York City, New York
Nationality: American
Famous For: The youngest boxer to win the WBA, IBF and WBC heavyweight titles
Awards: International Boxing Hall of Fame, 6-time world heavyweight champion
One of the most terrifying boxers to ever step into the ring, Michael Gerard Tyson was a model of the supreme gladiator. He is arguable the biggest name to garner the attention of the world through sport since Muhammad Ali.
Early Life
Mike Tyson was born in 1966 in Brooklyn, New York. He grew up in crime-infested streets of the city. At the age of 10, his family relocated to Brownsville where he lived with his mother and siblings. While Tyson never knew who his biological father was, he witnessed the mistreatment of his mother by her boyfriend. While growing up, he became involved in various unlawful activities, including mugging people, picking pockets and robbing shops. He was adjudicated a juvenile criminal, meaning he would have been found guilty if he was sixteen years or older.
Mike Tyson was taken to Spofford Juvenile Detention Center. Still, after additional behavioral issues, he was taken to Tryon School for Boys in New York. Here he met Counselor Bob Stewart, who was an amateur boxing champ. He asked Stewart to teach him how to utilize his fists. Though reluctant at first, he agreed to teach him. In 1980, Bob introduced Tyson to "Cus" D'Amato, a legendary boxer who owned a gymnasium in Catskill, New York. D'Amato saw the potential in Mike and took him out of the reform school.
The relationship between the two was more than that of a trainer and the athlete – it was of a father and a son. He took Tyson under his wing, and when he was paroled from Tryon in 1980, he entered into the full custody of D'Amato. He set a training schedule for the young Tyson; training in the evening and sending him to school during the day.
Accomplishments
From 1987 to 1990, Mike Tyson was the world heavyweight champion conducting a reign of terror in the ring. With D'Amato's guidance, he became the youngest heavyweight champ in the history of boxing at the age of 20 when he defeated Trevor Berbick in the second round. He went on to win the WBA title and the IBF from James Smith and Tony Tucker, respectively.
Victories against the likes of Tony Tubbs, Pinklon Thomas, Larry Holmes, Michael Spinks and Tyrell Biggs confirmed his status as one of the best boxers the world has ever seen. D'Amato's tragic death in 1985 was a big blow to Mike Tyson, but he continued boxing under the guidance of Kevin Rooney.
Downfall
A short-lived marriage to Robin Givens was followed by a series of misfortune that resulted in him losing his title to James Douglas in 1990 in Tokyo. Tyson, determined to recapture his lost crown, returned to the ring, rapidly dispensing of Alex Stewart, Donovan Ruddock and Henry Tillman. He was scheduled to fight Evander Holyfield for the heavyweight title when he was charged with rape. He was found guilty and was sentenced to 6 years in prison.
Return and Retirement
In 1995, Mike was released from prison. Wasting no time, he went back to the gym – determined to regain the title that had eluded him since 1990. In 1996, he regained his heavyweight crown.
Tyson would slowly go on the decline and go in and out of retirement to try to pay off his mounting debt. He finally completely called it quits and since has been featured in movies, on television and in video games from time to time.