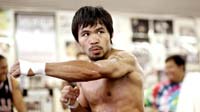 Born: December 17th, 1978 in Kibawe, Philippines
Nationality: Filipino
Famous For: Being the world boxing champion 10 times in 8 different weight classes
Awards: 3-time ESPN Fighter of the Year, 3-Time Ring Magazine Fighter of the Year, 2000 – 2009 Fighter of the Decade – Boxing Writers Association of America
Emmanuel Manny Pacquia is Filipino professional boxer and a politician. Manny is the first and only boxer to hold the eight division world championship. He has won 10 world titles and he is also the second highest paid athlete in the world.
Early Life
Manny Pacquiao was born on December 17th, 1978. He was raised in Kibabwe, located in Mindanao province in the Philippines. His parents separated when he was in sixth grade after his mother discovered his father was having an affair. As a teenager, he left his family and boarded a ship to Manila. He went to Manila in hopes of training as a boxer and launching his career in boxing. In January, 1995, his dreams became reality when he stepped into the ring for his very first professional bout. At only 16, Manny won this fight in 4 rounds, in a unanimous decision. This win propelled him into becoming a successful boxer for the next two decades.
Boxing Career
In December, 1988, Manny won a fight against Chatchai Sasakul, taking the World Boxing Council flyweight title; this was his first major honor. Later in 2001, he moved into a larger weight division and beat Lehlo Ledwaba for International Boxing Federation junior- featherweight title. In his very first U.S. fight, Manny won by knockout after 6 rounds. He continued to win a series of matches in the following years and claimed world titles in 8 different weight divisions.
In 2008 he was named victor of an 8-round, nontitle welterweight bout against Oscar De la Hoya. This fight generated about $70 million from pay-per-view. In 2009 Manny Pacquiao fought Ricky Hatton – a United Kingdom boxing star. He won this fight by a knockout in the 2nd round and thus won the Ring's Junior Welterweight Championship. Later in 2009, he beat Miguel Cotto in a 12-round match for the World Boxing Organization welterweight title. He defended this title in 2010 against Joshua Clottey.
On June 9th, 2012, Manny lost a 12 – round bout with Timothy Bradley. Many boxing fans and experts believed Manny actaully had won. That December, Manny suffered yet another difficult defeat when Juan Manuel knocked him out in the 6th round in Las Vegas.
His impeccable footwork, quick jabs and speed has kept his boxing fans on their feet. His endearing smile, charm and chiseled physique has greatly helped boost his public image. In 2003, Manny Pacquiao was voted Philippine's person of the year. He has also been named "Fighter of the Decade."
Political Career
In 2007, Manny made his very first attempt to enter into politics, running for a seat in the House of Representatives in the Philippines. However, he was defeated and therefore returned to full-time boxing. In 2009, he formed a new Filipino party called the People's Champ Movement. He decided to run again for a legislative seat. This time, he won by landslide, beating his opponent Roy Chiongbian. He became the lone district of Sarangani's House representative in May 2010.