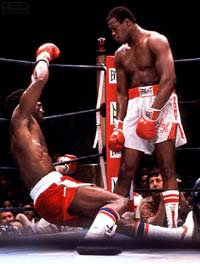 Born: November 3rd, 1949 in Cuthbert, GA
Nationality: American
Famous For: Winning first 48 pro boxing matches
Awards: International Boxing Hall of Fame, heavyweight champion
Larry Holmes remains one of the most well regarded professional boxers of all-time. He had a very accomplished career and, after his retirement, was very successful with real estate investments. During his career, he took part in memorable clashes with many hall of fame fighters.
Early Years
Larry Holmes was born on November 3rd, 1949, in Cuthbert, Georgia. He would move to Easton, Pennslyvania where he grew up in the mountain air. His father worked as a gardener far away in Connecticut and would make the long trip to Easton every three weeks to see his family. Holmes eventually left school at a very early age and worked at a car wash and drove a dump truck for low wages.
Beginning His Career
At the age of 19, Holmes started taking boxing lessons. He would excel in his training and tried out for the Olympic team in 1972. His bout against Duane Bobick at the trials saw Holmes disqualified. Holmes would go on to start an amateur career that was quite successful as he won 19 bouts and only lost 3.
Professional Career
In November of 1973, Larry Holmes would win his first professional bout against Rodell Dupree via decision. Holmes also would work as a sparring partner to some very famous names including Mohammad Ali, Joe Frazier and Earnie Shavers. Ironically, in 1978, Holmes would face Shavers in a professional bout and win a 12 round decision. This was considered a major upset and made Holmes famous.
On June 9th, 1978, Holmes won the WBC Heavyweight Title from the well known fighter Ken Norton. Holmes would go on to win several title defenses in an impressive manner. He did have tough fights in the form of a rematch with Shavers and a bout with Mike Weavers. Holmes would defend his title against Mohammad Ali in 1980. Ali was far past his prime and was utterly dominated.
In 1982, Holmes had a match with Gerry Cooney that was overshadowed by racial overtones. The media seemed to push this angle in a distasteful manner. The fight was a grueling one and Holmes won the match. Both Cooney and Holmes would become close friends after the event – putting some of the bad blood between them aside.
On December 11th, 1983, Holmes would cease defending the WBC title and was recognized as the IBF champion. Holmes' amazing career was at 48 wins, no losses. He would lose his 49th bout in 1985 when he was defeated by Michael Spinks in a fight deemed one of the all-time greatest upsets. He went on and lost to Spinks in a rematch and then another loss in a legendary fight with Mike Tyson. He would fight 24 more times and win 21 of the matches.
Retirement
Larry Holmes would retire and become involved in a series of business and real estate investments. These ventures have proven to be incredibly successful and Holmes does not seem to be slowing down in retirement in any way. His legacy as a hall of fame fighter is comfortably secure.