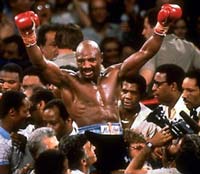 Born: May 23rd, 1954 in Newark, New Jersey
Nationality: American
Famous For: Being middleweight champion for 7 years
Awards: Boxing Illustrated Fight of the Decade for the 1980's, International Boxing Hall of Fame, World Boxing Hall of Fame
New Jersey native Marvelous Marvin Hagler was one of the most popular middleweight boxers of his time. His enormously high knockout rate in title defenses also helped establish him as one of the greatest.
Early Years
Marvelous Marvin Hagler was born on May 23rd, 1954 in Newark, New Jersey. The 1967 riots destroyed the apartment building that he and his mother lived; hence, she relocated with her son to Massachusetts. It was in this state where Hagler would take up boxing at Pat and Goody Petronelli's. Hagler excelled in his training and would go onto a very successful amateur career. In 1973, he won the AAU165-pound championship.
Professional Career
The pro career of Marvin Hagler maintained a somewhat strange start. He was a solid southpaw who was winning quite a number of his bouts. In fact, he quickly reached the number one rankings for pro middleweights yet could not acquire major matches for the title or against a top name fighter. Eventually, he did get a match against the well known Joe Frazier protégé Willie "the Worm" Monroe. Hagler lost the bout but fought Monroe again in a rematch and won. Hagler would then go on and defeat several other big name fighters on the way to establishing himself on the national scene.
In November of 1979, Hagler received his first title shot against World Middleweight Champion Vito Antuofermo in a match in Las Vegas. The match had a bizarre ending as the judges ruled it a draw allowing Antuofermo to retain the title.
Taking the World Title
After 50 professional fights, Marvin Hagler finally received a title shot against the new middleweight champion Alan Minter. Hagler won the bout in three rounds and was declared the new world champion.
Hagler would go on to hold the title for the second longest duration in boxing history: six years and seven months. Only Tony Zale held the title longer, but Zale had a lengthy period of inactivity due to serving his country in World War II.
The Great Defense Streak
Hagler's array of title defenses was most impressive. He knocked out 78% of his challengers, which was a stunning number. His aggressive style also contributed to some very exciting fights. During the 1980's, cable television was growing at an enormously rapid rate. HBO was carrying Hagler fights and subscribing to a home pay channel was a much easier and more accessible method for fans. In short, HBO helped make Hagler a mega star of the decade.
End of Career
On April 6th, 1987, Hagler lost a fight with Sugar Ray Leonard. After the match, which saw him lose his world title, Hagler retired from the ring. He would move to Italy where he would enjoy a new life as an action movie actor. No, these were not A-list films. The low budget affairs mostly went direct to video and played on late night cable.
These days, Hagler is a family man who spends his time in his homes in Milan, Italy and New Hampshire.