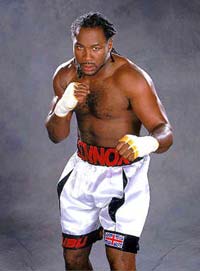 Born: September 2nd, 1965 in West Ham, London, England
Nationality: British
Famous For: Holding the undisputed world heavyweight title
Awards: Olympic gold medal, International Boxing Hall of Fame, Commander of the Order of the British Empire
Lennox Lewis is a Canadian-British former boxer, who was the last man to have been recognized as undisputed heavyweight champion of the world. Lewis was the Olympic champion in the super-heavyweight division at the 1988 Games in Seoul, Korea – representing Canada. He turned professional the following year and won several championships before uniting the belts in 1999. Since his retirement in 2004, Lewis has become a well-known media personality and boxing commentator.
Early Life
Lewis, who has Jamaican heritage through both of his parents, was born on September 2nd, 1965 in London. His family moved to Canada a few years afterward, settling in the Ontario city of Kitchener. Lewis displayed considerable ability at boxing from a young age, and he was good enough by 1983 to be crowned the Junior Amateur Champion of the World. His first Olympic appearance came at the Los Angeles Games in 1984, where he reached the quarter-final stage before losing to eventual gold medalist Tyrell Biggs.
After his Olympic appearance, Lewis did not immediately turn professional. He went on to win his first gold medal at the Edinburgh Commonwealth Games in 1986. After attaining a silver medal at the Pan-American Games the following year, he achieved his goal by becoming an Olympic champion in 1988. At this point he did decide to move into the professional ranks – also making the decision to move back to the country of his birth. Once he was back in England, Lewis's career progressed rapidly, and in 1992 he won his first world title when he knocked out Razor Ruddock in the second round, a win which gained him the WBC belt. He was to lose and regain this title several times during his career.
Undisputed Champion
During the 1990's, Lewis had a mixed record in title fights, losing to Oliver McCall in 1994 but winning the rematch three years later in bizarre circumstances. For reasons that remain uncertain, McCall started crying and declined to box in the fourth round, repeating this performance in the fifth. Lewis was therefore awarded the fight by the referee. However, it was in 1999 Lewis's greatest achievement came as he fought Evander Holyfield. The first bout ended in a highly controversial tie; despite most analysts judging Lennox the better boxer on the night. A rematch was swiftly ordered, and Lewis won a unanimous points decision to become undisputed heavyweight champion.
Lewis lost his undisputed crown a few months later when he declined to fight the WBC's mandatory challenger, but a bigger shock came when he was knocked out by Hasin Rahman, who had been given little chance by the media, in 2001. Lewis won the swiftly arranged rematch easily. He then demonstrated clear superiority over former undisputed champion Mike Tyson a year later. Lewis decided to retire from boxing in 2003, and he took up roles in music promotion and sports management. A few years later, he was inducted into both the International Boxing Hall of Fame and the Sports Hall of Fame in Canada. Lewis has most recently been living in Jamaica.