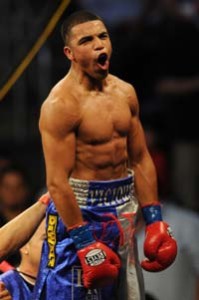 Born: January 31st, 1987 in Garden City, Kansas
Nationality: American
Famous For: Attaining the welterweight champion title
Victor Ortiz is a famous American professional boxer. He is of Mexican descent and a former WBC Welterweight champion. Previously, when he was in the lightweight division; he held the NABO and USBA titles. Ortiz has a crowd-pleasing and aggressive style. His power and boyish charm earned him the ESPN Prospect of year in 2008 . Ortiz was formerly rated as one of the top three welterweight boxers in the world.
Early Life
Victor Ortiz was born in Kansas on January 31st, 1897. He was the third child of Mexican illegal immigrant parents. He was raised in extreme poverty, and when he was only 7, his mother abandoned their family. Shortly after this, he started boxing with the help of his father who was an abusive alcoholic. 5 years after their mother's departure, Ortiz's father also left. This forced Ortiz and his 5 siblings to live in a foster care system in Kansas. In 2002, his elder sister became a legal adult and moved to Denver, Colorado. Victor and his little brother moved in with her.
Early Career
Victor started training at a Salvation Army Center; here, Ron Lyle, a former heavyweight boxing contender, noticed him. Lyle had become a supervisor at the center and in 2003; he guided Victor to a Junior Olympics tournament. At only 16, he won the 132 pound weight division with a 5-0 record. By this time, another former boxer, Roberto Garcia, had already noticed him.
Garcia was based in Oxnard, California; he offered to train Ortiz. Ortiz moved from Colorado to California where he started training at the popular La Colonia Youth Boxing Club. At 17 years, Ortiz reached the United States Olympic Boxing trials in the 132 pound weight class. He was eliminated at the finals. In 2004, Ortiz turned professional.
Professional Career
Ortiz started his professional career with a list of easy victories. By 2008, ESPN named him as the boxing prospect of the year. Three years later, in 2011, Victor fulfilled the expectations and also claimed the welterweight title; this was with a unanimous decision over Andre Berto.
Ortiz's possession of the belt was quite short. Five months after winning the title, he lost it to Floyd Mayweather Jr. Mayweather had ended a 16 month hiatus to take on Ortiz. After one year, Victor lost again to Josesito Lopez. This was the 4th defeat in his career. During this exciting fight, the two fighters engaged in competitive exchanges, as opposed to the one-sided bout that was expected by many people. Ortiz was highly favored by the crowd, but he ended up on the losing side of the match.
Outside the Ring
Victor Ortiz is famous for his good looks and engaging smile. He has proven to be a natural in the front of cameras. In 2013, he participated in 16th season of ABC's Dancing with Stars. Victor is also rumored to be appearing in a movie soon.