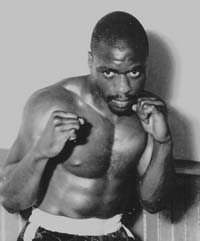 Born: May 6th, 1937 in Clifton, New Jersey
Nationality: American
Famous For: Spending nearly 20 years in prison for a wrongful murder conviction
Rubin "Hurricane" Carters professional middleweight boxing career was short lived, lasting from 1961 to 1966. It was abruptly halted upon his arrest for allegedly killing three people in a Paterson, New Jersey bar and grill. He and a friend were charged not just once, but twice for the crime. However, after almost 20 years following the suspected incident, he was released from prison in 1985 upon a third appeal. Later, from 1993 through 2005, he would head a group called the Association in Defense of the Wrongly Convicted.
Rubin Carter was born on May 6th, 1937 in Clifton, New Jersey. He was raised in Paterson, NJ as the middle child of seven. His first encounter with the law came at the age of 14. An assault conviction landed him in a state juvenile detention center. He fled from the reformatory in 1954 and was able to join the U.S. Army where he was deployed to West Germany. It was while in the military that Carter first became interested in the realm of fighting.

Unfortunately, trouble once again found him and he was dishonorably discharged from the Army in May of 1956. Less than a month later he was back in custody as a result of the aforementioned escape from the juvenile facility. Now an adult, Carter was incarcerated in the Annandale State Prison. His eventual release from there led to more trouble with the law for a multitude of offenses including muggings, robbery and assault. His guilty plea to the most serious of these crimes had him confined to the former Rahway State Prison (now East Jersey State) as well as a Trenton facility until 1961.
Boxing Career
In September of 1961 Rubin Carter decided try becoming a professional boxer. At the young age of 24, the 5'8″, 155 pound Carter would fight as a somewhat undersized middleweight.

His first fight was a split decision victory over Pike Reed in Annapolis, Maryland on September 22nd, 1961. This was followed by three more victories before he suffered his first defeat at the hands of Herschel Jacobs in a rematch from a prior win against him two months earlier. After a series of early round knockouts he was named to Ring Magazines Top 10 Middleweights list by the summer of 1963.

Rubin Carter first achieved national attention with his knockdowns of former and future middleweight champion Emile Griffith. Carter floored Griffith twice in the first round of the 1963 bout leading to a technical knockout after less than three minutes of the initial round. The pinnacle of his career was his championship match with belt holder Joey Giardello which ended in a unanimous decision for the champ. Following the loss, Carters career began a downward spiral and he last fought on June 8th, 1966 losing to Juan Carlos Rivero.

Rubin Carters overall career professional boxing record was 27 wins (19 by knockout), 12 losses and 1 draw.
Aftermath
With the ending of his boxing career, Rubin Carter returned to the Paterson, New Jersey area where he was identified as one of two men who gunned down three people in a bar there on June 17, 1996. It was later found that his identifier had made a deal with the police. While maintaining his innocence through appeals, he was twice convicted of the homicides. Nearly 20 years later, on a third appeal, the state decided to drop the charges due to insufficient evidence and he was freed.

Besides his work with the defense association he has also made a living as a motivational speaker. His life injustices were immortalized in a 1975 song by Bob Dylan titled "Hurricane."