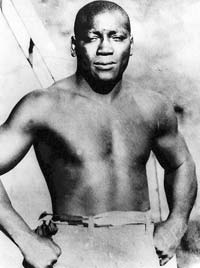 Born: March 31st, 1878 in Galveston, Texas
Died: June 10th, 1946 (68) in Raleigh, North Carolina
Nationality: American
Famous For: Being the first African American world heavyweight champion
Awards: International Boxing Hall of Fame, World Boxing Hall of Fame
Jack Johnson, also nicknamed the "Galveston Giant" was a famous American boxer. He was the world's first ever African American heavyweight champion. In a documentary about his own life, Ken Burns states that, "for more than 13 years, Jack was the most notorious and the most famous African-American on Earth."
Early Life
Johnson was born on March 31st, 1878 in Galveston, Texas. He was the second child of Henry and Tina Johnson. His parents were former slaves who always worked very hard to raise their six children and even taught them to read and write. After 5 years in school, Johnson dropped out and started working as a dock worker in Galveston.
Early Career
On November 1st, 1898, in Galveston, Jack Johnston made his debut as a pro in boxing. He knocked out Charley Brooks in the second round of a 15 round bout. During his third professional fight, which took place on May 8th, 1899, Johnson battled John Haynes in Chicago. The two fighters met again in 1900; the first contest resulted in a draw – since both fighters were on their feet at end of 20 rounds. In the second fight, Johnson won by a TKO when his opponent refused to came out for the 14th round.
On February 25th, 1901, Johnson fought Joe Choynski in Texas. Choynski was a very popular and experienced heavyweight who knocked out Johnson in the 3rd round. However, prizefighting was illegal during that time. The two fighters were arrested and a bail was set. The two could not afford the bail, but the bail was later reduced. According to Johnson, he learned his great boxing skills during his time in jail with Choynski. The two fighters later became good friends.
World Colored Heavyweight Championship
By 1903, Johnson's official record was 9 wins, 3 losses, 5 draws and 2 no contests. However, he had actually won about 50 fights against white and black fighters. Johnson won his very first title in 1903; he beat Denver Martin in a 20 round match for the World Colored Heavyweight Championship. He held this title until it was vacated when he took the world heavyweight title in Sydney, Australia in 1908. He reigned as champion for 2,151 days; this was the third longest streak in the 60 year history of African American heavyweight boxing. Johnson defended this heavyweight title 17 times.
World Heavyweight Championship
Jack Johnson tried to fight for the world heavyweight title several times but his efforts were thwarted since the champion would not agree to face him. During this time black and white fighters could meet in any other competitions except the heavyweight championship. On December 26th, 1908, Johnson finally managed to attain the world heavyweight title. After his victory against a Tommy Burns, who was a Canadian, racial animosity among the white community ran very deep. Many whites wanted to take this title away from Jack Johnson. As the title holder, Jack Johnson had to face several opponents who he managed to beat easily.
In 1910, James Jeffries, who was a former undefeated heavyweight title holder, decided to challenge Johnson. At first James was not interested in this fight but when a huge sum of money was offered to him, he finally decided to face Johnson. The contest took place on July 4th, 1910 with a huge crowd of 20,000 people. Johnson dominated this fight and won this contest as well as a huge sum of money. This bout was known as the "Fight of the century."
Personal Life
Johnson was married three times. He had no children. On June 10th, 1946, he died in a fatal car crash in North Carolina.